Continental AllSeasonContact 2 Tyres Available in CRAIGAVON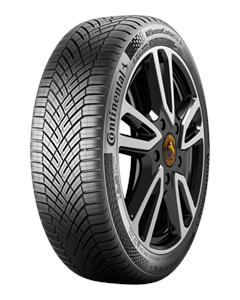 AllSeasonContact 2
Why choose this tyre
Experience increased efficiency due to our advanced material and tread technology.
Feel safe in any weather thanks to better handling and braking.
Enjoy our new adaptive tread design for a smooth and comfortable driving experience all year round.
Contains our new innovative "Chili Blend" compound, designed for maximum safety and performance all year round.
When nothing lasts forever, this tyre lasts for longer.
Our AllSeasonContact 2 is constructed from advanced materials with an improved pattern design that reduces friction. This not only leads to lower abrasion, giving your tyre a longer life, but also reduced energy loss – key to minimising fuel consumption and extending range.
When the seasons do what they want, this tyre does what you want.
You can't control the weather. But you can be prepared. With its new and improved compound technology, the AllSeasonContact 2 stays consistent under any temperature, providing better grip whatever the season as well as ultimate driving confidence and safety.
When the weather changes, your driving experience stays smooth.
Our adaptive tread design with its innovative c-block technology, gives the AllSeasonContact 2 a higher stiffness. Its open shoulders help transport water away from the tyre. This means better handling in curves and a smoother ride on straight roads, for a more pleasurable driving experience in any weather.
We make you ready for e-mobility.
Our EV-compatible marking confirms that the tyre meets the requirements of electric vehicles as well as cars with combustion or hybrid engines.