Bridgestone Turanza ER300 Tyres Available in CRAIGAVON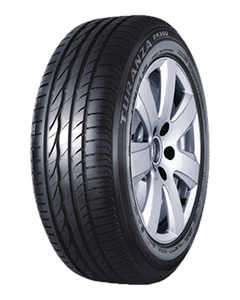 Turanza ER300
Bridgestone Turanza tyres are designed to complement the engine power and ride comfort of high-performance saloons, estates and GTs.
This is Bridgestone's premium touring tyre designed both as factory fitment for leading car manufacturers and as a replacement tyre for luxury and mid-range touring models.
We can confidently recommend the Turanza ER300 as the FIRST CHOICE for owners of touring cars who want top-quality handling in all conditions and refined comfort.
Top-quality handling on wet and dry .
Outstanding wet performance, with the tyre compound and inside area of the tread
Pattern specially designed to enhance wet grip
Provides sharp steering response, cornering power and straight-line stability at higher speeds
Refined and quiet comfort
Extremely smooth and comfortable ride, due to the shock-absorbing carcass construction
Low noise output at all speeds is optimised by the advanced pattern design